Tropical Gold Thank You Card Design
Regular price
Sale price
£0.00 GBP
Unit price
per
Share

Perfect Favour
Marrying Physical and Digital, our cards are the perfect Keepsake to revisit over and over.

Surprise Effect
All our cards have a "Harry Potter style" 3D Video effect that bring them to life.

Smooth Experience
With QR codes featuring your video message, wedding video, photo gallery and more.

Flexible Designs
Add your name, photos and text. Decide if you prefer handwriting or printed text.

Free Samples Available
Order our Sample today and receive it in the next 5 Business Days.

Satisfaction Guaranteed
Order today and get a digital proof in the next 48h - Refunds possible.
We print. You upload the video.

Use your phone's camera to scan the QR Code below: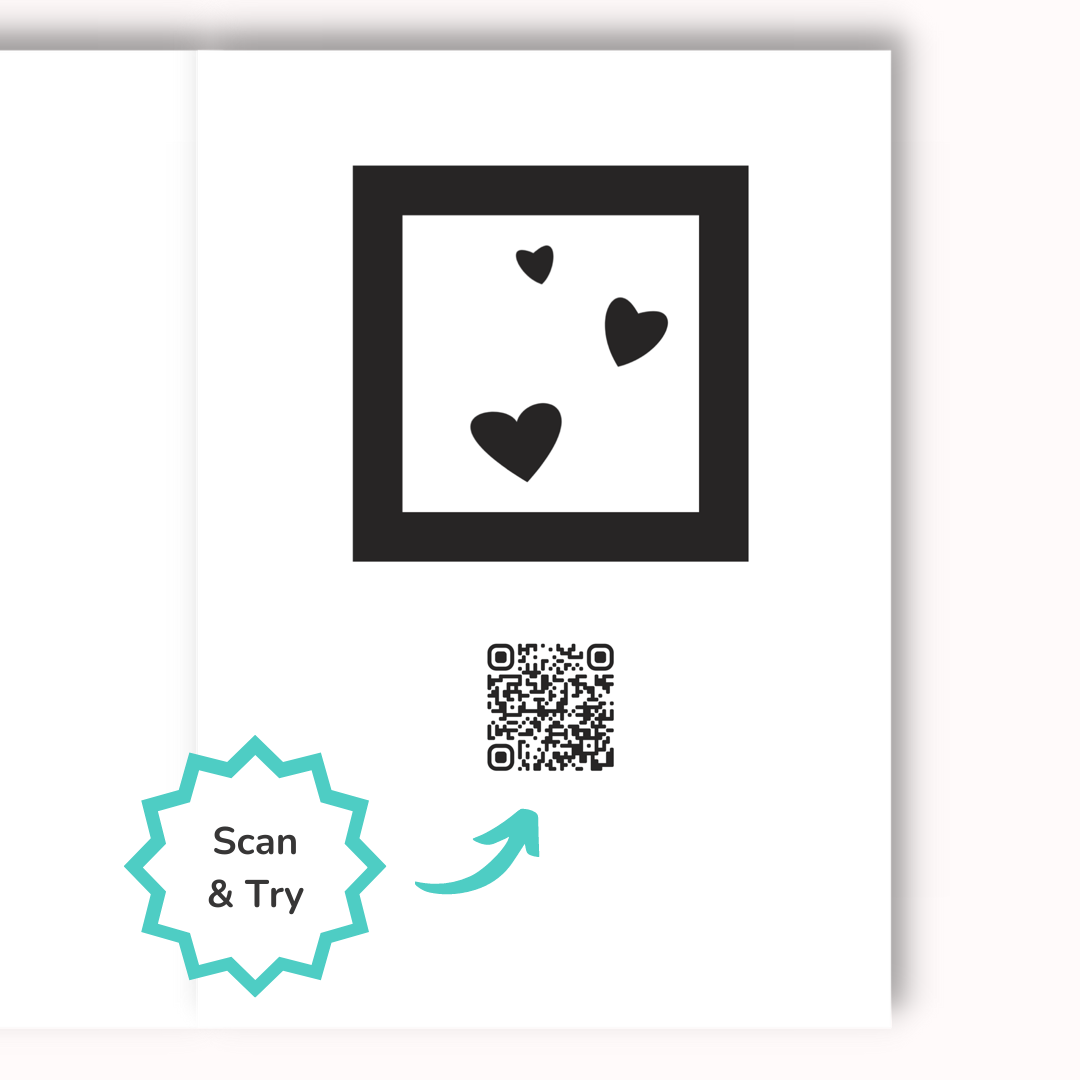 -- What our customers have to say --
Listen to Dan and Dass and discover how their family received the cards:
Yes! Memtell Cards are the best of both worlds.
Indeed, your Nan will still receive a beautiful printed physical card with a fabulous shot of the wedding printed on it, as well as your lovely message written inside. If you want to make it super special, you can always ask us to leave the inside-right page empty so you can hand-write it. We're sure she will appreciate the extra effort and hold on to the card forever, with or without seeing the video.
And next time you see her you can show her the video yourself, she will think you're magic!
By the way, feel free to assess the level of difficulty right now: Test it Yourself!
It's up to you!
Here's what we recommend:
Keep it short and sweet! Although you can upload a +10mn video, we highly recommend staying under the 2mn mark

Use the highlight shots of your wedding and compile them into a photo slideshow. Our free Memtell app supports you with the creation of such slideshows. Try to use some group shots so that everyone feels included.

Here's an example.
If you have a videographer at your wedding and they make a teaser video, this would be the perfect way to share it! Here's an example.
Simply say thank you! Record a short selfie video during your honeymoon, and let them know how happy you are about sharing your wedding with them. Here's an example.
If you ever need inspiration, we offer free video support. We can help you find the right words, make a slideshow montage of your best pictures or simply upload it to the card for you. Just reach out 😊
What if I make a mistake?
We will send you a custom digital sample for you to approve before printing your order.
Mistakes are human. But in the print industry, they can get costly.
That's why:
Our team carefully reviews your order for mistakes or inconsistencies when receiving it.

We then compile your customisations into a .pdf and send it to you by email for approval. That's what we call the "digital sample".

Once you approve this digital sample, we will send your order for printing.
You can contact us any time before printing to ask us to edit text, photos or any other personalisation item available for customisation in our shop. When ordering, you also have the chance to add comments and let us know if you wish to have our templates modified in any way.
Last but not least, if you would feel more confident talking to us, we do too! Book a meeting with us here, and we will be more than happy to chat with you and understand your needs.
What paper are you using?
We use a high-quality FSC 350g colour copy with a satin finish for a soft touch.
We print in A6 format with a high-fidelity printer. The Forest Stewardship Council (FSC) certified products support responsible forestry, helping keep forests healthy for future generations. The satin finish ensures an easy QR code scanning process with a fancy look and feel.
However, we are flexible. Get in touch with us via our Free Design Support, and we will figure it out.
It is your day, so have it your way!
Correctly-sized envelopes are included by default, with every order.
You have the choice between a rustic kraft paper envelope for an earthy style and a classic white satin forsimplicity and elegance.
If you wish to use your own envelopes, be sure to remove envelopes from the order. This will get you an automatic 10% off on your order and avoid us unnecessarily mailing envelopes.
How long does it take to receive my order?
We aim for 3-5 business days once the digital sample is approved.
Keep in mind that the Covid Pandemic can sometimes create unexpected delays with logistics.
It is our duty to keep you updated with your order, you will receive regular notifications of its progress.
Yes, we have free samples (pay for shipping) available.
You can order our default sample any time for £0.95. Click on the "Add to Cart" button below:
If you wish to order a custom sample, we offer that too for £6, shipping included. Here's how it works:
Select a design

Change the quantity to 1

Customise it and place your order
Once the digital sample is approved, we will ship it in 3-5 business days
Finally, you can always place an order and cancel it any time before printing. We will issue you a full refund.
Yes, as long as it is before printing.
Here's how a typical order works:
You customise a card and place an order on our website

Our team carefully reviews your order for mistakes or inconsistencies when receiving it.

We then compile your customisations into a .pdf and send it to you by email for approval. That's what we call the "digital sample".

Once you approve this digital sample, we will send your order for printing.
You have the chance to contact us any time before printing to cancel your order.
You will then be issued a 100% refund as soon as we receive your message.
How long will the video be available for my guests?
One year by default... and forever if they download it!
When you first upload the video to your cards, we will give you one year of availability for free. You can extend this availability period via the app, provided a fee.
During this period, you and your guests can save the video to their phones if they wish to. They will then have the opportunity to watch it again and again, for long as they want.
What about Save the Dates and Invitations?
We're glad you're asking! We offer them too.
Head out to our dedicated collections: