We will customise our designs to fit your needs. For free.
Not 100% satisfied with our card designs?
100% satisfaction guarantee
​​To ensure that you are 100% satisfied with your order, we proofread your text, retouch your photos and optimise the layout of your stationery. We treat each and every piece of stationery as if it were our own, going above and beyond to make sure that your stationery is absolutely perfect!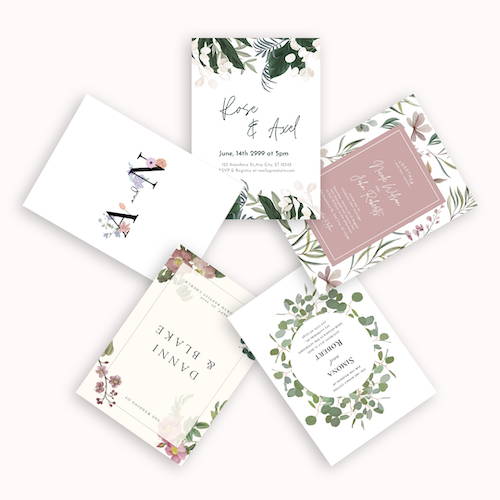 The same prices as advertised in the rest of our shop. We won't charge you extra for our work and additional support.
If you plan on ordering matching Save the Dates or Thank You Cards, we will be more than happy to apply a discount!
We want to make sure that every wedding is a success, beginning with its announcement.
The simple answer is to get in touch, and we will take it from there!
1. You let us know what you have in mind:
Your time is precious, so we recommend you book a call with us thanks to the button below. Otherwise, you can send us a mail at jono@memtell.com with your request.
2. We fine tune our design together:
Based on your requirements, we suggest you some designs and have a back-and-forth (via email and phone) until you are happy.
3. You approve and pay:
Once you are ready to move on, we send you a payment link. From there we can print and ship you the final cards wit dedicated QR-codes where you will be able to add your own video. We will support you with the video creation too!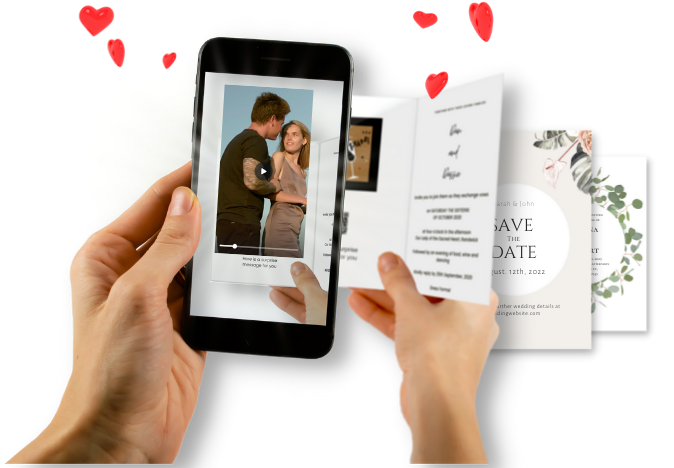 Testimonial from happy customers
Let's face it, making a video is a bit of additional work.
And with everything else going on, is it worth it?
If you want that extra personal touch and create excitement for your wedding, ABSOLUTELY. The result will easily surpass the little extra investment in time.
Watch Dan & Dassie's testimonial to hear what the reaction from their family was!
We know how hard it can be for couples to show their personalities through all the different aspect of their wedding. You want your wedding to be "You".
This is why we created the Video in Augmented Reality feature, so that you can express yourself through the video, set the tone for your wedding, share the love that you have for one another and how excited you are to meet all your guests on your big day. It happens once in a lifetime.
And we understand how important it can be for the design to match your wishes.
Here we suggest a way to work together and make our special cards your special cards. We look forward to hearing from you!
Miri & Jono